When your balls freezes over
Posted in
Femdom
on February 13th, 2013 by bdsm-club_support
Duration: 00:09:45
File size: 442 Mb
Format: wmv
It's been a full month since the ever disappointing and always pathetic husbands was been put in chastity that is way to small to accommodate him. He has begged for release almost every day, and every day his wife has teased his cock mercilessly inside the device.
Today he begs for release again and his wife is feeling like she would like to be accommodating. She wants to illustrate how COLD she feels about their marriage. She decides to let him out of chastity under one condition. She is going to ice his balls until they are frozen and then milk his cock.
After much begging and complaining about how cold the ice is, she become angry. She tells him that if he can't stand the cold, then she will WARM it up! She proceeds to apply IcyHot to his balls and cock and continues about her milking. Whether he cums or not, he is immediately put back in chastity.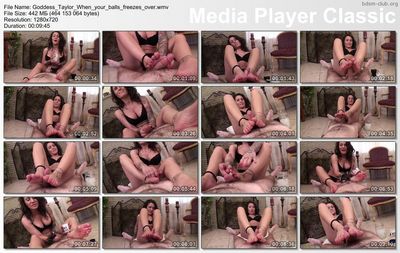 Download:
Protected Folder (Rapidgator.net)
Mirror:
http://luckyshare.net/6972922884/Goddess_Taylor_When_your_balls_freezes_over.part1.rar
http://luckyshare.net/4956987421/Goddess_Taylor_When_your_balls_freezes_over.part2.rar
Mirror:
Goddess_Taylor_When_your_balls_freezes_over.part1.rar
Goddess_Taylor_When_your_balls_freezes_over.part2.rar