CfnmTV – The Cfnm Hotel 4,5,6
Posted in
CFNM
on July 31st, 2018 by bdsm-club_support
PART 4: Margaret and Sarah have decided that the only way to control Ashley's unnecessary erections is to drain him of his cum. To facilitate this, Margaret has suggested the rigorous use of a vibrator. But while Sarah uses the device to stimulate him, an angry Miguel has barged in and is shocked at what he sees.
PART 5: With Ashley's balls drained of sperm and the poor lad lying exhausted on the bench, Sarah decides that it's time to teach Miguel a lesson in manners. She's not happy with the aggressive way the big Spaniard is behaving so pulls him aside and shoves her fingers up his arse.
PART 6: Sarah is determined to bring the angry Spanish lifeguard down a peg or two. Probing his arse with her fingers clearly wasn't enough – so she decides to take things further. Draining him of his sperm should calm the big man down. So with great gusto she grabs hold of his penis and starts to wank him off.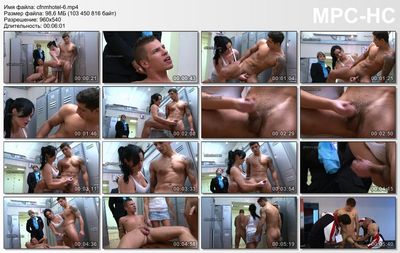 Download:
Download file – 106.2 MB
Download file – 99.3 MB
Download file – 98.7 MB