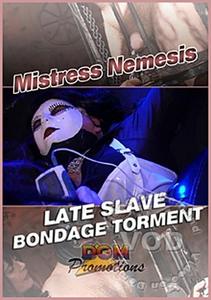 Mistress Nemesis does not like to be kept waiting, in fact there is nothing that winds her up more than a slave who's timekeeping is not up to scratch. Mistress Nemesis's TV Slave Vicky brings in the late slave, who thought he was coming for a little tie and tease, but oh no, after showing such little respect for his Mistress, he is in for the punishment of a lifetime.
The slave is placed into a gibbet cage and hoisted up above the dungeon floor with weights attached to his cock and balls. As he is hoisted higher and higher, the weights start to swing, causing him excruciating pain in his bollocks. Whilst the slave is hoisted above the ground, Mistress decided to incarcerate her TV Vicky in her underground slave pit. Vicky is tethered hand and foot and electric shocks are applied to her balls.
With TV slave Vicky securely tied up in the slave pit, with electrics on her balls, Mistress once again turns her attention to the late slave who is hanging high above the dungeon floor. With cock and nipple tease, Mistress gets her revenge, but he too will be subject to electro cock therapy. From high above the dungeon, Mistress has her finger on the button and continues to shock the slaves cock and balls while she rests.


Late_Slave_Bondage_Torment.part1.rar
Late_Slave_Bondage_Torment.part2.rar