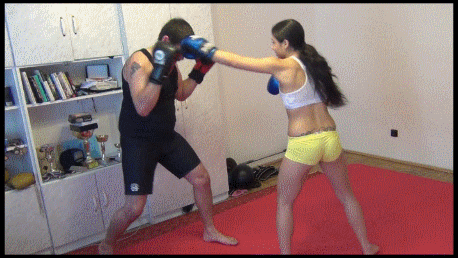 I opened my first fight club.This is a privat club and my profile is real specific.This is a re-education club.I'm raising obedient and respectful workers and husbands. Many companies make it compulsory for employee my workout.Many girlfriends gifts for her boyfriend membership.Many cheating wife gives her husband an ultimatum:Divorce or regular training with me.
Lesson 2-Hard Combat
This guy got a membership from his girlfriend because he cheated on her. He did not suspect anything, he thinks it's a real workout. In the 1. part we trained with focus mitts while I forced him down and I humiliated him more times. Now, he's afraid of me and tries to escape. He looks so pathetic… He's just a fagot coward in my eyes, who dares tocheat on his wife. He is not real man, but I give him a second chance to prove himself. We put on the gloves and starts the real hard combat. I show no mercy!! My punches and kicks hit him with ruthless precision. He falls to the ground many times and begs me to stop, but I don't. My mission is to completely break him,and I know to do it well.


'The_Fight_Club'-Lesson_2_(Hard_Combat)_PART_1-2.rar