Hey, Come in here… I want to talk to you. Your new here at this job huh?? I saw you staring at my UGGS boots like a perv. Are you one of those foot fetish losers??? That's hilarious! You are probably drooling over how my SIZE 11 FEET are sweating inside these furry lined uggs, huh? LMAO. Well, since you just admitted it, why don't you get down on your knees and start licking the bottom of my boots then? AND, I am taking pictures too haha! I am blackmailing you into becoming my little "boot bitch"!
That's it, get your tongue all up and down the bottom of my dirty, filthy boot soles. I want to see your tongue BLACK. Make sure you get the heel too! I am not sure what I stepped in. Haha.
By the way, while you're doing that, how much exactly is your paycheck? Because I think now that you are officially my boot licker… you should be BEGGING me to take your pathetic little paycheck every Friday, don't you? I mean, it is the least you can do for the chance to be owned by a beautiful girl like ME. It's a fair trade- you get to lick my boots and be humiliated and degraded by ME, and I get all your money! Haha. But don't worry, You can make extra money pan handling outside after work or something. You are going to need money for my food, after all. You see, I am ALSO going to be making you buy my lunch everyday, and I have expensive taste. So you have to use that money you get from begging out on the street to feed ME and I don't care if you have no money left over for YOU- and you fucking starve while literally spoon-feeding me my lunch that YOU paid for! LOL
But I am so nice… I have a plan so that you might be able to have something to eat- Watch the video to see what my plan for you is!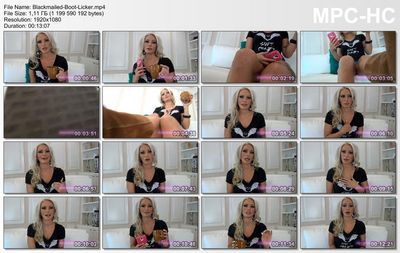 Download:
Blackmailed-Boot-Licker_www.bdsm-club.org.rar
Protected Folder (Links Inside)
Tags:
American Mean Girls
,
Dirty Talk and Masturbation Instructions
,
Femdom